A Call to End Christian Prohibition
The following is the re-post to a series of blogs I wrote on the topic of Alcohol from my old Transplant Ministries blog. People have requested that I post it somewhere they could have access to.  So here it is.  This is the third in a series please read part one here.
Recently I have been reading a book called "The Search for God in Guinness". I reviewed the book on @SolaGadgeta a while back ago. Instead of rehashing the book, I suggest that you read the review here.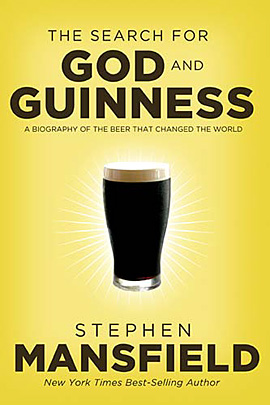 But to sum it up, it makes a case that Christians were the better brewers. Not just in that their beer was superior, but their business model and how they used the money to advance the Gospel was superior.
Arthur Guinness was a Christian who was most likely saved during Whitefield and Wesley's tour of Ireland. He used the money he made from founding Guinness beer to pay for his employees to take vacations with the family, educate the wives of his workers and planted the first Sunday schools all over Ireland. His children were benefits to the covenant blessings, were successful and also had a heart for the Lord. Author Guinness the Second continued to run the company under the authority of the Gospel even after his father.
Yet, nowadays the first thing that comes into an individual's mind when you mention beer and wine is not Godly men using the profits to further the Gospel, instead its filthy bars, DUI's, strip joints, drunks falling face down on the pavement and if your an open air preacher like myself…hecklers.
Alcohol has become so synonymous with worldliness that it is almost impossible for anyone to imagine that alcohol is a gift from the Lord to be enjoyed by Christians even when scripture is indisputable about the topic.
"Go, eat your food with gladness, and drink your wine with a joyful heart, for God has already approved what you do."  Ecc 9:7
"He makes grass grow for the cattle and plants for people to cultivate— bringing forth food from the earth: wine that gladdens human hearts, oil to make their faces shine, and bread that sustains their hearts." Psalm 104:14-15
We see from these two verses that God has approved the drinking of alcohol for Christians and that the drinking of alcohol has a primary purpose to "gladden human hearts." Alcohol is meant to make conversation among friends light hearted and to make fellowship sweeter than it already is. Alcohol has been given to men, by God,  to produce joy, that is it's God-given purpose.
Alcohol, more specifically "strong drink" is also made to be used in worship to God. Shocking though it may be in Deuteronomy 14:26 the Words of God are clear:
"and spend the money for whatever you desire—oxen or sheep or wine or strong drink, whatever your appetite craves. And you shall eat there before the LORD your God and rejoice you and your household." Deuteronomy 14:26
Let me just insert right here that if I were to concede that "wine" in the Bible means watered down unfermented grape juice (which I don't), there would still be a problem. If drinking any alcohol is a sin one has to ask how an individual can drink "strong drink" in the presence of a God who can't be in the presence of sin.
Here is what the Strong's Exhaustive Concordance says "strong drink" means: "From shakar; an intoxicant, i.e. Intensely alcoholic liquor — strong drink"
God actually commands the people of Israel to drink an intensely alcoholic drink in his presence! To say that drinking is a sin means that the God of the universe is one who allows men to sin in his presence and this is a blasphemy against the very holiness of God.
Since scripture is clear on this, why is our worldview regarding alcohol so far removed from what the Bible says our worldview should be? What has happened?
Originally Christians had dominion over alcohol. Wine used to be called the drink of the clergy. We were given it as a gift, to enjoy rightly, just as we are to enjoy food and sex. Food, sex and alcohol are undeserved gifts from God to be used properly under God's law for his Glory and our good. The Church is to teach on its proper use and to be vocally against those who abuse it. For most of Church history this was the case. Drunkenness was seen as shameful, and the drunkards were the lowest part on the society's totem pole. Martin Luther and many of the reformers were very public about what they would drink and likewise drunkenness.
"It is possible to tolerate a little elevation, when a man takes a drink or two too much after working hard and when he is feeling low. This must be called a frolic. But to sit day and night, pouring it in and pouring it out again, is piggish… all food is a matter of freedom, even a modest drink for one's pleasure. If you do not wish to conduct yourself this way, if you are going to go beyond this and be a born pig and guzzle beer and wine, then, if this cannot be stopped by the rulers, you must know that you cannot be saved. For God will not admit such piggish drinkers into the kingdom of heaven [cf. Gal. 5:19-21]… If you are tired and downhearted, take a drink; but this does not mean being a pig and doing nothing but gorging and swilling… You should be moderate and sober; this means that we should not be drunken, though we may be exhilarated."
So there were many great reformers and Godly men who were very outspoken and in favor of Christians drinking.
But then came prohibition.
Instead of the church standing up, fighting against the feminist onslaught against this clear gift from God, the church actually supported it. The church joined together to actually make a gift from God illegal and thereby making possession of it a crime against the state. I actually own a copy of a children's book from the eighteen hundreds that tells kids that the reason you are spanked is because your daddy drinks. From this there were many different theories that were created as to how one could possibly reconcile Jesus Christ and wine. The definition of "wine" was changed to mean something unfermented. Suddenly the church did as the Pharisees and created laws against God's gift.
The church shook their fist at God and sided with Thomas Welch who invented a new, less sinful way of taking communion and Welch's Grape Juice was born. Thanks to Mr. Welch during prohibition Christians could still take communion and not break the law. Besides using grape juice that is unfermented is a far more holy way of taking communion then God could ever have imagined. (sarcasm)
So instead of teaching its proper use and instead of using a gift from God as a way to demonstrate the Gospel, the church gave all power and authority over alcohol to the sinful world. Since prohibition, Christians have never been able to get it back, nor have they been willing. It's very rare that the Government realizes that something is a bad idea before the church does.  Too much shame, the role of alcohol within the church is still hotly debated.
The Lord God has given the Church a gift and instead of receiving it with joy, we have told God that we don't want it, we have told God that his gift is sinful and by our own logic we have made Jesus Christ out to be a drunkard who instituted a sacrament which brings men into temptation; after all we know what is good for us.
Is there any wonder why there is such a negative stigma associated with alcohol? We have given authority of alcohol to the world and we need to take it back.
Currently the world regulates all aspect of the industry.
The business end of alcohol is filled with marketing that promotes drunkenness, fornication, a shameful view of marriage and is completely absent of a Biblical view of manhood. This perversion of God's gift doesn't just stay within the confines of The Big Beer companies marketing department, it trickles down the glass to the bars, pubs and restaurants who encourage drunkenness and fornication for profit. Every aspect of the brewing industry has been given over to sin and it would be easy to stop there and blame all of this on Anheuser-Busch InBev, Miller and Coors, but it's not purely their fault because judgment always starts in the house of the Lord.
I am convinced that the reason Alcohol has become such a sinful industry is not because of the sinful marketing, not because of the greed of the local bars or rise of some made up disease, instead all blame rests solely on those within the church, who washed their hands of the alcohol industry. The Lord has given the Church a gift and we have refused it. Instead of being responsible with the Lords gift, we have taken the easy route and just decided to avoid it all together. The church has no reason to complain about the current state of the alcohol industry because the church, in all its apathy is the one who has caused it.
When the Church leaves something of Gods into the hands of the world, the Church should not be surprised to find that it is ruined. What has happened with alcohol is happening with other gifts from God. The church has actually allowed the Government to vote on marriage. The Government has not been given authority to recreate that definition, nor have they been given authority to even call it into vote. That is done by God and is forever established apart from the ideas of kings. Churches need to stand up to these votes and say we don't care what the outcome is, we refuse to accept it. Marriage is ours…thus saith the Lord.
So, the Christians who did not believe alcohol to be a sin, became obsessed with idea that even speaking of alcohol could cause someone to sin. So we made a gift from God a private matter. Thus the ones who abused alcohol were very public about it and started to shape and influence the culture with their sinful views.
The World has no authority to determine how we as Christians use alcohol. Many people have stated that it is wrong to drink because it could damage their testimony. What if an unbeliever saw? What would they think? To be blunt…I don't care what an unbeliever thinks in this regard. The reason is I am never, ever called to submit to an unbeliever's false interpretation of scripture. If an unbeliever thinks it is a sin for Christian to drink, he needs to be corrected of his error. We wouldn't allow an unbeliever to have false understandings of marriage, likewise we don't submit to an unbeliever who has a false view of alcohol. We wouldn't allow an unbeliever to have a false view of the deity of Christ, likewise we shouldn't allow an unbeliever to influence our understanding of his Word in regards to alcohol.
We have believed a lie of pop-psychology. The myth of alcoholism. We scream and shout when someone says that homosexuality is a disease, but when someone says their addiction to alcohol is a disease we apologize to them. If being addicted to alcohol is a disease, then every man on the face of the planet has not escaped the genetic condition known as lusting after woman.
Being a drunkard is not a disease. It is sin. Alcoholics Anonymous is a now Christless pop-psychology industry that encourages suppression of sin as opposed to repentance of sin. People are not alcoholics. They are sinners. Former drunkards who are now Christians are not seen as alcoholics, they are spotless and blameless before God. We don't shield adulterers from all women, or even the scent of woman. Martin Luther said "Men can go wrong with wine andwomen. Shall we then prohibit and abolishwomen?"
Instead we use the Gospel to demonstrate a love for Christ that is superior to our love of lust. The same is true for drunkards. I have shared a drink with many Godly friends whose past is riddled with slavery to alcohol; before Christ the world would consider them alcoholics, but now Christ has restored them. Our attitude and goal for "alcoholics" should not be suppression and legalism; it should be repentance and restoration.
But what about the weaker brother?
Do we just toss them aside, do we flaunt our liberties around him? Not at all! To do so is just as equally a sin against God.
If I am having a weaker brother come to my house for dinner, I can abstain from wine or beer out of love for him, yet the weaker brother out of love for me should not expect me to empty my fridge and pour everything down the sink. This is the principal demonstrated in Romans 14:3 "Let not the one who eats despise the one who abstains, and let not the one who abstains pass judgment on the one who eats, for God has welcomed him." There needs to be a mutual understanding among the body, not a dominate controlling understanding that causes us to live lives of fear and sneak on our tiptoes around the wine aisles at Wal-Mart hoping someone from church doesn't see. The weaker brother is not to place the stronger brother under a legalistic bondage and the stronger brother is not to act as a child who eats a cookie while dancing in front of his sibling who's being punished. Charles Spurgeon once said ""Woe to the man that delights in pointing out imperfections in others." I believe this quote to be true for both the weaker brother and the stronger brother.
Finally we need to rebuke those who flaunt their abstinence from alcohol as a way to appear more holy then those who don't drink. Those who abstain from drinking have not reached a level of sanctification that is higher than our Lord Jesus Christ. Drinking in public does not make you "look like the world" it makes you as Christ. This principal of doing things to appear more righteous is demonstrated in scripture. Paul chose to circumcise Timothy but did not circumcise Titus as it would damage the Gospel. It is no sin to be circumcised or not, but our motives have to be pure. So anyone who refuses to drink as a way to make themselves appear more holy, should be given a drink in order that they be humbled.
So what now?
For over one hundred years the church has handed alcohol over to the world, and by their silence the church has created a monster. I believe it is time to take it back and to not just sit down and allow the world to trample over God's gift like grapes in a winepress. Christians need to be in the business. We need to be the ones brewing the beer, creating the wine. We need to be the ones owning the fine taverns and kicking out drunkards. We need to be the one who reinvent the industry and take control from the world. It's time that we stop the silence and cowardice on this issue.
But first we need to drink in public again.
From my own experience, I can assure you that the wait staff do not enjoy serving piggish drunks. So I challenge you who enjoy a good craft beer to go to your favorite pub, enjoy a good drink, and get to know the wait staff. Leave a great tip and share the Gospel with them. Let your fruit of self control be a witness and a blessing to those who spend all day serving those whom lack it.
I remember one of the first times I went to a place to buy a beer in public. I looked at the waitress and asked "Which of these beers are smaller?" She quickly replied "We have a 12oz and a 16oz, do you want me to get you a 16oz." She had never been asked such a question and assumed I was asking because I wanted to gorge myself. It is possible to be a testimony of the Gospel and to drink in public at the same time.
Right about now your thinking "If I buy a Budweiser I would be supporting an industry that promotes drunkenness and fornication! I don't want my money to go there."
So my answer to that is don't purchase a Budweiser, I would never do such a thing either. There are tons of small brewers, called craft brews that enjoy making beer for the fellowship of it, for the taste of it, the hobby of it and for a whole variety of reasons that don't involve drunkenness. The "Big Beer" companies distill the flavor, to make it cheaper as a way for people to pure and simply buy as much as they can and get drunk off of it. The problem is when the Christians remove themselves from an industry they no longer have a voice in the business. A boycott from Christians is not effective when Christians are not the ones purchasing the goods. So let's become a consumer again and start rewarding those who do good.
Let's be as outspoken against drunkenness as we are against gay marriage, but be as supportive of good brews as we are long lasting Godly marriages. The church needs a voice in the industry again. The church needs multiple voices in the industry and it's up to the church to rebuild culture. Not to let culture change church.
So, if your conscience allows you, grab a glass and rejoice to the Lord for he has already approved what you do.
Scripture, Alcohol and John MacArthur: Part 2
The following is the followup post to a series of blogs I wrote on the topic of Alcohol from my old Transplant Ministries blog. People have requested that I post it somewhere they could have access to.  So here it is.  This is the second in a series please read part one here.
The issue of how to address the weaker brother is no small matter and it is not to be handled lightly. A brother's or sister's conscience is on the line and there is nothing funny about trampling over a weaker brother for one's own selfish gain and amusement. There are many who have abused alcohol in the past, who have been bound by it's sinful lure and I know that even today as I write this that there are still many Christians who constantly battle temptation with alcohol. I love my weaker brothers and I will do what I can to keep them from sin, both in stumbling and violating their conscience, but I also refuse to allow them to sin by twisting Scripture (knowingly or unknowingly) as a means to create a legalistic worldview.
But we have to ask the right questions and not insert our presuppositions about alcohol into the mix, which is why I decided to write the first petition so that we as a body could replace our traditional view of alcohol with a more Scriptural view – one that reflects what we see in Scripture.
As I stated previously, in Deuteronomy 14:26, God tells Israel that they are to:
"Spend the money for whatever you desire—oxen or sheep or wine or strong drink, whatever your appetite craves. And you shall eat there before the Lord your God and rejoice, you and your household."
Issues to emphasize from this passage:
Both wine and strong drink ("shekar") are listed.
This is a public proclamation, to all the people of Israel to purchase whatever their appetite desires, even intoxicating drink.
This is to be done with rejoicing.
This is to be done before the Lord.
The questions that need to be asked by looking at this text are simple.
Is drinking strong drink a sin?
Is commanding people to eat whatever their appetite desires placing gluttons in danger of stumbling?
Is publicly telling people to drink wine or strong drink a sin because it will cause someone to stumble?
If it is a sin to do so, then how can the Lord issue a command knowing it will cause people to stumble?
These questions answer themselves, since to answer in the negative would damage the very character of God. It is only in light of these passages, as well as many other Scriptural passages of public drinking, that the issue of the weaker/stronger brother can be addressed.
In other words as we dive into this very sensitive subject, Scripture must interpret Scripture. Not our emotions, modern psychology, past history with alcohol, or other aspects outside of the text.
I use the text in Deuteronomy as the foundation for this before diving into Romans 14 because it uses the term "shekar," or strong drink. No matter how one tries to make "wine" appear less alcoholic by jumping to extra-biblical theories of diluting wine, there is no getting around the command of God to purchase "strong drink" in the text. "Shekar," in its original language, is defined as "intensely alcoholic" and is used several times in Scripture to warn against the sin of drunkenness (Proverbs 20:1, Isaiah 5:11), but it is also used in worship as described here in Deuteronomy, including its use as an offering unto the Lord (Numbers 28:7). This begs a number of questions: if alcohol was inherently sinful, or should not be drunk by Christians in public, why would God want it served and poured out as worship to him? Is God worshipped properly when "controlled substances" (which are regarded as symbols of the world and which have held so many in "bondage") are used during public worship? If this can be considered proper worship, how can one be in "sin" before the Holy and just Lord, and "rejoice" at the same time?
Clearly, as Scripture tells us, it is the command of the King Himself to use alcohol in public worship to Him, not just in the Old Testament, but in the New Testament as well. Paul rebukes the Church of Corinth for intoxication at the communion meal, indicative of their unworthy participation. Clearly the wine used in Corinth and the churches of the New Testament was alcoholic.
But how is this possible? Surely throughout all of Scripture there must have been weaker brothers as well? Were they not present during communion? Did Jesus Christ place our weaker brothers in temptation by commanding the use of wine for his sacrament? Certainly not. To say so blasphemes the nature of God, who tempts no one.
A discussion on the weaker brother would not be complete without an examination of the primary text of Romans 14. Let's take some time to look over that passage, starting with the first few verses that are often overlooked by the opposing positions.
Romans 14:1 – As for the one who is weak in faith, welcome him, but not to quarrel over opinions. One person believes he may eat anything, while the weak person eats only vegetables. Let not the one who eats despise the one who abstains, and let not the one who abstains pass judgment on the one who eats, for God has welcomed him. Who are you to pass judgment on the servant of another? It is before his own master that he stands or falls. And he will be upheld, for the Lord is able to make him stand.
The very first thing to note is that in the preceding chapter of Romans, Paul speaks about the importance of loving our fellow neighbor, and thus leads into Romans 14 to discuss how to handle those who are "weak in faith." This matter is first and foremost an issue of loving those whom are weaker in the faith or new Christians, ones who do not understand fully their freedom and grace that is to be found in the Gospel. Because we love the weaker brother, we can never allow them to remain stagnate in the faith as a result of their own ignorance to what Scripture commands.
This text is not about going out of your way to bend to the desires of those who are older in their faith, and wrong in their reasoning, nor it is not about creating an entire system of church regulation built upon the weaker faith of another.
As the text says "He [the weaker brother] will be upheld, for the Lord is able to make him stand." When discussing this text, John Calvin points out Philippians 1:6: "He who began in you a good work, will perform it to the end," to show that the position of the weaker brother should be one that is temporary.
When speaking of the weaker brother, the Apostle Paul is speaking of newly converted Jews and Gentiles who were still bound to their traditions, (such as not eating meat sacrificed to idols) having not yet arrived to the proper conclusions regarding the cleanliness of foods.
We must not make the same mistake common among many Christians, which is to assume that the weaker brother has a more sensitive conscience. Within the context, the weaker brother is not an esteemed position, but rather is someone who is still holding on to traditions, who is still clinging to legalism and law, and who does not yet understand how to manage his freedoms under the Gospel. It is a cruel thing to allow one to stay in that position, and we can trust that the weaker brother will not remain as such, since the Lord, who is able to make him stand, will also keep him from falling.
In others words, as individuals, we are to temporarily make accommodations for our Christian brothers and sisters who are new to the faith as they grow in sanctification. If we go out to dinner with them, we abstain from ordering a drink, but if they come to our house we are not under any law to clear out the fridge as Paul says, "Let not the one who abstains pass judgment on the one who eats."
Clearly this text is not saying that drinking is a sin, nor is it saying that eating is a sin. The context of this text is not even dealing with people who used to be gluttons and drunkards in their pre-regenerate state, or even people that abused the gifts of God! It is speaking of the opposite. It is speaking of those who, in the past, abstained from things that the Gospel now allows them to enjoy freely!
For example, the ex-homosexual who has now repented and saved is not to abstain from all sexual activity, instead he should desire (as we should desire for him) to be married, have children, and raise a godly generation!
Likewise, the ex-alcoholic should not desire to always be abstinent, but to instead desire to be restored to a maturity that allows him to drink alcohol, partake in communion, and enjoy God's gift rightly!
But with as glorious of a picture of the Gospel as that is, the text does say that for the sake of the weaker brother, we ought to abstain when necessary so as not to violate his conscience.
"It is good not to eat meat or drink wine or do anything that causes your brother to stumble."
But is this a permanent abstinence, and to what extent should an individual abstain? Should the church corporately submit to whatever yoke the weaker brother requests of it? Not at all.
I have many Christian friends who come to my house. They know my position on alcohol. Some evangelist come to my house for the weekend knowing my positions concerning alcohol and I, knowing theirs, abstain while they are in my home. Other Christian friends and evangelists come to my house to fellowship and enjoy a good beer as well as bring their own. I am not to love the brothers who do not drink any less than my brothers who do drink. The brothers who do not drink are not to love me any less nor are they to think less of me or question my devotion to the Gospel because I drink.
If a brother who does not drink comes to my house, should I empty my fridge? Would the site of seeing a beer cause him to run to the nearest ABC store and devour a bottle of Jack Daniels? Would I be responsible? Certainly not. If Jesus Christ can turn water into wine at a public celebration and not be charged with placing people into temptation, and can command people to purchase wine and strong drink to worship him, then certainly we can purchase beer in public, drink in public, and take part in teaching others to brew beer and make wine publicly.
Remember the text I started this post with? It described a public command by God to drink and eat whatever one desires corporately! Therefore the church's position on alcohol cannot be something that would require us to rewrite the very commands of Christ for His sacrament. I like how R.C. Sproul defines "Christian liberty" in his commentary on Romans 14:
"The Classical understanding of Christian Liberty is this: we are not to try and force somebody with a scruple against something, as uniformed as that scruple may be, to violate his conscience. The basic principle that unfolds here is one of loving sensitivity. If my brother believes that drinking a glass of wine is sin, I ought not to try to coax him into drinking a glass of wine. That would be an attempt to entice him to violate his conscience, . The violation of one's conscience, even if it is a misinformed conscience, is a serious matter. That does not mean that we should stand back and allow our weaker brother to make his scruple the law of the Church. Paul makes clear in his teaching that though we are to be sensitive, loving and kind to the weaker brother we ought never to allow him to exercise tyranny over the church"
We who regularly enjoy alcohol are never to force another brother into violating his conscience. We are not to coax or twist their arm into doing something they do not feel comfortable with. It's serious business to do this and an incredibly grievous sin.
But is one forced to drink alcohol by smelling it? Is one ever forced to partake of communion against their will? Is one forced into drinking alcohol to the point of sinful drunken stupor by seeing a frosty beer in a photo on Facebook, or by seeing a six pack in my fridge, or by seeing a blog title photo of the bar taps on Grace to You's own website?
Certainly this is absurd reasoning that is not based from Romans 14, which commands us to engage in the "mutual upbuilding" of one other. Instead, this sort of lopsided non-biblical tyranny is not based on Paul's commands but on Alcoholics Anonymous-Freudian psychology, and not on a Biblical understanding of sin, regeneration, and sanctification.
A while back, as a way to prove the inconsistency of this point, I posted some photos of Krispy Kreme doughnuts on my Facebook. Was I rebuked for causing people to stumble? Was I warned of the possibility of causing a glutton to dive into an entire dozen by himself? Was my devotion to the Gospel questioned?
Most assuredly it was not.
Instead I was treated to hardy har hars from people who said they were "tempted" and "stumbling" – none of them serious, of course. Yet when I posted the photo of a beer, suddenly I crossed the line. I went too far in expressing my Christian liberty and, though no one was tempted toward gluttony in one picture, I was in danger of causing countless Christians to fall into despair because of the other.
We as Christians should demand consistency with every Scriptural argument that contradicts how we live our lives. If Christian prohibitionist or "abstinence is wisdom" crowds were consistent with their view of alcohol and the church, they would no longer go to pot-lucks, they would not be seen at a restaurant, bakery, or grocery store, they would eat only in the privacy of their own home with closed curtains, or they would starve to death out of fear of causing a brother to stumble. Why don't the teetotalers  demand that engaged women cease to wear a ring on their finger as they are clearly causing other single woman to covet. If the teetotaler position was consistent and as sensitive with other subjects as they are with alcohol, there should be no public weddings at all to prevent single brothers and sisters from coveting being married.
The teetotalers' logic and reasoning is absurd. We as a body of believers are not to reconstruct our church policies, our practices, and our sacraments based on the opinions of every weaker brother who walks into our building.
So then, Romans 14 is clear: out of love for our weaker brothers in the faith we are to abstain when necessary from those actions requiring a mature handling, all the while teaching and encouraging the weaker brother to grow out of their yoke of bondage, in order that they might stand.
This cannot happen without public teaching on the subject. The church today demands that there be no teaching on the right use of alcohol and therefore the perversion of alcohol by the world is the only education on the subject our culture receives. This is very dangerous.
The weaker brother is to be loved and accepted by the body. But he is not to judge unrighteously or force the stronger brother into bondage and fear.
May we as a body of Christ cease to cause division over this subject any longer, and to stop treating God's gifts as taboo subjects or worldly vices. May Christ allow us as a body to break free of the misunderstanding of God's gift of strong drink.
And most importantly, whether we eat or drink, or whatever we do, let us do all to the glory of God.
Biblical Defense of Alcohol Part 1
The following is re-post from my old Transplant Ministries Blog. Many people have requested that I re-post it even though the website is down. So I decided to dig it up and give it a place on the internet that people can use as a reference if they want.  
Recently, John MacArthur, a man whom I have great respect for released a blog titled "Beer, Bohemianism, and True Christian Liberty" aimed at the "Young, Restless and Reformed" (YRR) warning them about being associated with alcohol or using it in their church services. It pretty much caused the blogosphere to collapse on itself. As for myself, I wasn't even aware of the blog until several people alerted me to it.
I would not fit into the category of Young Restless and Reformed, I am not charismatic, not a fan of anyone having tattoos, I despise MMA, and can't stand trying to appeal to the world to grow our churches. Most importantly I was forced to give up my hip, trendy and relevant YRR badge as soon as I open air preached in public. However, based on my tweets, statuses and Facebook messages of the past addressing the issue of alcohol and the church I have become the "go to guy" within my small social network community when people have a question in regards to Christians and alcohol, whether I want to be characterized by that or not.
Being lazy and not wanting to take the time to really do an elaborate post on the subject I made the mistake of making a pretty sharp tweet calling MacArthur's post "horrific" and refuting the tweet by saying "Jesus drank wine, your argument is invalid."
I am not sure if "horrific" was the best use of words for an elder. Not to mention the response was lazy. It didn't help that I then tried to avoid a long blog post by making a reductio ad absurdum of his post by replacing every reference to alcohol or beer with "Krispy Kreme and Potlucks." Although very effective at demonstrating the absurdity of his presupposition if alcohol is not a sin, it didn't really leave a proper explanation of my position and it's relation to the Gospel.
What followed was a series of tweets, Facebook debates, phone calls and e-mails that left me exhausted and doing far more work defending the position then if I had taken the time to respond rightly.
I decided to take a break from the social media sphere for a while, not as way to avoid the conversation, but mainly to inspect my own heart and attitude towards brothers and sisters in Christ who disagree on this issue.
But with that being said, and with some encouragement from my friends who believe the centrality of this issue is not being addressed by either side. I felt I needed to respond in more detail. There is no easy way to discuss this issue and as I write this I have no idea how long this post will be. But let's sit back, and first and foremost clarify some things.
I do still stand by my argument. Alcohol is a symbol of our freedom from sin as demonstrated by Christ.
In MacArthur's post he said:
"Contrary to the current mythology, abstinence is no sin—least of all for someone devoted to ministry (Leviticus 10:9; Proverbs 31:4; Luke 1:15). It is, of course, a sin to give one's mind over to the influence of alcohol or to bedrock one's reputation with deliberate symbols of debauchery." (GTY.org)
If MacArthur believes that alcohol is not a sin, then why define it as a symbol of debauchery? Is that the image of alcohol that God gives us in Scripture? Does John MacArthur take this same stance towards sex?
John MacArthur is a very wise man, one who knows the Bible far better than me, and because of his amazing knowledge of Scripture he is forced to say that drinking alcohol is not a sin. However, as the quote above proves he believes drinking is no sin, while creating a system that presupposes that it is a sin.
This presupposition that alcohol is sinful forces MacArthur to literally water down Jesus' first miracle. In a previous discussion on alcohol posted on YouTube, MacArthur says that:
"You'd have to drink an awful large volume of that diluted, fermented wine to become drunk. In the ancient world, the dilution of wine was distinguished from strong drink which was not diluted and that did lead to drunkenness. Having said that; Jesus creating wine, and I assume that he did, was fresh, brand new, unfermented, the best grape juice, the purest that anyone had ever tasted."  – John MacArthur "Why Would Jesus Create Wine" (YouTube Video)
It's interesting to note, that in this video John MacArthur references strong drink as the drink that leads to drunkenness, but ignores the fact that God commands Israel to partake in strong drink, the Hebrew word is "shekar", in Deuteronomy 14:26
Because of our prohibition traditions, we are so afraid to simply state that Jesus drank alcoholic beverages with self control. Not only that; pastors can't even discuss the topic without being labeled as an alcoholic or a lover of beer. As in this very blog, MacArthur warns pastors that:
"It is puerile and irresponsible for any pastor to encourage the recreational use of intoxicants—especially in church-sponsored activities."
Is a wedding a Church activity? Is worship described in Deuteronomy 14:26 a Church activity? What about communion? According to MacArthur's alcohol worldview, we must completely ignore alcohol, even eliminating it from a pastors discussion.
Lets be very clear on some things. First, discussing the topic of alcohol and the Scriptures does not make one a wino and it doesn't even mean that the person who is pro-alcohol has made alcohol an idol. For some reason, those who oppose Christians drinking like to attack the content of ones character and ministry rather then addressing the issue from Scripture. I recently had a guy tell me that because of my few tweets and statuses expressing my position on alcohol, "I have ceased to make the main thing the main thing."
This is quite simply untrue and any such accusation would have to be applied to John MacArthur for making these very blog posts on alcohol, as well as Jesus Christ himself who was called by his own words "a glutton and a drunkard" because of his association with those who eat and drink  (not to mention a certain miracle he performed.)
Just because one speaks and teaches on secondary issues does not discredit one from having a passion for the Gospel. The Gospel is not just a proclamation. The Gospel without application is no Gospel at all. Just a story. The Gospel without "works in keeping with repentance" is as James said…dead. I know us reformers don't like to talk about Gospel and works in the same breath, but bare with me. I am not speaking of pre-regeneration works. I am speaking of the application of the Gospel on a believers life after he has been saved. Sanctification.
How does the Gospel change my view of my sin, my evangelism, my marriage, the raising of my kids and my career? This is the sanctifying work of the Gospel. In other words how does the Gospel (which is spiritual) affect my life (that which is physical). If the Gospel has no effect on the temporal realm then how can we expect to use Scripture to teach against abortion, homosexual marriage or abusive husbands?
More importantly in this instance, how does the Gospel application change a persons view of alcohol?
Before we can answer this, we must first understand the worlds view of alcohol.
There is no question that the world loves alcohol. They abuse it. They use it outside of it's God-given restraints, for their own selfish ends. They devour it to such a degree that they ruin their lives and the lives of others over it. Wrecking families and harming children.
But the same is true for sex.
The world loves sex. They abuse it. They use it outside of it's God-given restraints, for their own selfish ends. They abuse it to such a degree that they ruin their lives and the lives of others over it. Wrecking families and harming children.
Both sex and alcohol are gifts from God and make no mistake about it the world doesn't abuse these things simply because their fun to abuse or enjoyable. They abuse these gifts of God, because they hate with the most venomous of disdain the one who gave these gifts to them and this is their chance to shake a fist at their creator and gift giver.
As we see with homosexuality and their perversion of sex, it's not enough for the world to simply abuse God's gifts. They need to redefine it. They need their abuse of the gift to influence the culture. It's no longer enough to simply be a homosexual, homosexuals need to have special rights and everyone has to agree and support them or else. If they can redefine marriage, then they can remove God from it, reshape the cultures worldview and harden their conscience ever so slightly.
This is why we as Christians cannot allow the wickedness of the world to define our view of alcohol. They have no right. They have no authority, but most of all any definition we allow the world to give will be a blasphemy against God in an all out attempt to suppress his truth.
The same reason we do not allow the world to define "marriage" is the exact same reason we do not allow the world to define the proper use of alcohol. For Christians to not speak up on the proper use of God's gift on alcohol is just as much a sin as Christians who seek to allow the Government to define marriage.
We don't need their definitions. Their definitions are blasphemous, and slander God and his Word which has already defined these issues for us.
Brothers and sisters whom I love, this is the truth I speak to you. My passion to defend alcohol is not rooted in my love of drunkenness, but my hatred of it. It's not rooted in my apathy to the Gospel but my devotion to the Gospel. It is not rooted in my desire to be like the world, but my desire to transform the world for the Glory of Christ.
I want nothing more than for the church to take back the alcohol industry for the Glory to God that the world might look to the Bride of Christ for proper instruction on how to regulate His gifts.
This my friends is the dividing line. This is the difference.
Even though men hate God, God shows kindness by giving alcohol as a wonderful gift (Is 55:1), used to make glad the heart of men (Ps 104:14, 15), already approved by God for our use (Ecc 9:7), both in corporate worship (Deut 14:26), in fellowship and celebrations (John 2), to be a sign of God's blessings (Is 25:6), which Jesus used as an instituter of the covenant demonstrating his blood that would save his people from his sins (Luke 22:20)
Jesus Christ, when he was with his disciples took that glass of wine and said "This cup is the new covenant in my blood, which is poured out for you."
Drunkard, this wine which so enslaved you is now a picture of your freedom in Christ.
What grace.
Contrast that glorious picture, with Phil Johnson on the radio, and Grace To You's blog where alcohol was referred to by Christians as "a symbol of debauchery" a "controlled substance" and an agent of "bondage" not being a symbol or "purity" or "restraint."
To reduce alcohol, a symbol of Christ and his work, to anything less may not result in using alcohol for debauchery, but it can be just an equally sinful display as it can lead to Gospel-less legalistic moralism.
No matter how much the world tries to tarnish gifts from God we cannot allow them to for the sake of His name and the Gospel. We must not let the world define terms and we must not accept the definitions they give.
I said in the beginning of this post, that I do not bear the title of Young Restless and Reformed because I despise trying to make church conform to the culture. I stand by that. However those who would stand with me in opposition to worldly worship are equally as guilty of making the church conform to the ideas of the world when they create laws in opposition to a Biblical worldview of alcohol, and in favor of the weaker brothers still pagan worldview. When you let the world define theology for the Church, you allow the Church to become worldly.
So perhaps your saying to yourself "But what about those genuine weaker brothers who struggle with drunkenness, how can we intertwine drinking alcohol publicly, in corporate worship and fellowship and not trample over their consciences?"
These my friends are valid questions! Debates worth having as we seek answers that can only be found within the pages of Scripture, and cannot be found within the perversions of the world.
…and now that you know that alcohol, when properly defined, is first and foremost a Gift from God, a symbol of the covenant, that gladden the heart of men, I would be more than happy to explain how Scripture reconciles the two…tomorrow.

Read Part Two Here 

A Call to End Christian Prohibition 
The following sermon is from Art Azurdia and is called The Sanctification Of Ministerial Failure (Part 1 ). If you need a little dose of Gospel, here you go.
Above is a link the a great blog post from Douglas Wilson on the Herman Cain scandel and the hypocrisy of the current political landscape.
How do Christians vote in a way that is Biblical? Pat Necerato released a new website called 'VoteBiblical.com" and with it comes this fantastically informative video on the subject. Watch the video above and pass it on. 
@ShaiLinne and the rest of the @LampMode crew discuss the ins and outs of the five points of Calvinism. It's great to see brothers disagree and show love to one another in their disagreements. 
Here is the truth. If Planned Parenthood facilities are shut down civilization will not be able to go on, the economy will collapse, puppies will be born with full grown beards, Kittens will die and life as we know it will come to an end. 
Well, that's what Planned Parenthood wants you to think, and they spew lies constantly to make people think that but the truth is if Planned Parenthood facilities were shut down all across the nation children of all races would be born. 4 Million of them, per year to be exact. 
I really cannot wait to see this documentary. 
This is a video of the protesters that were in Atlanta, GA this weekend. Scary stuff what happens when you try to destroy an institution such as Capitalism, which is the system created by God for men to use.